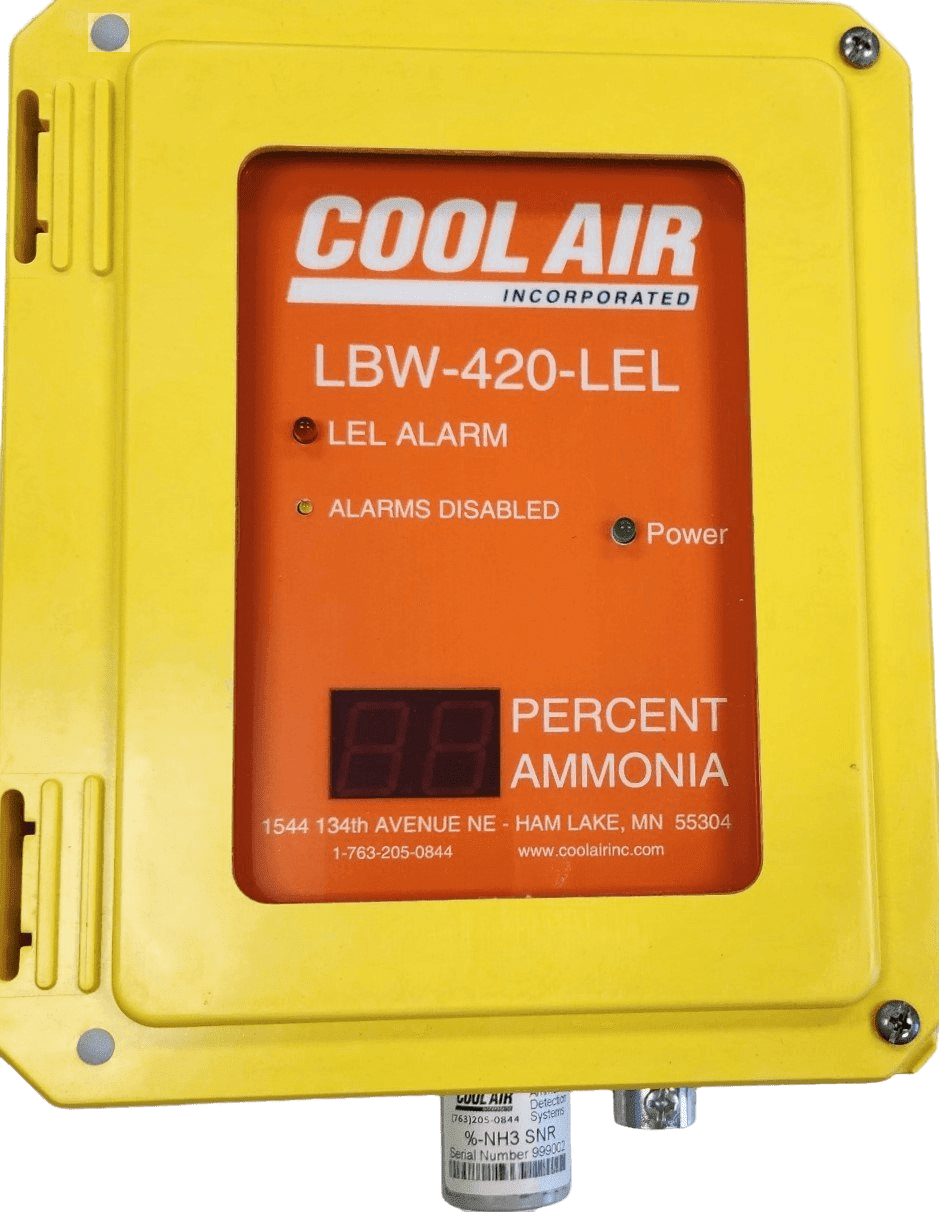 Price: $1,995.00.00
SKU/Part Number:
LBW-420-LEL
LBW-420-LEL Ammonia Leak Detector
The LBW-420-LEL ammonia gas detector is a versatile detector offering that rounds out the Cool Air Inc. ammonia gas detection system product line. The LBW-420-LEL is specifically purposed for the detection of high ammonia concentrations in the event of a catastrophic leak in industrial ammonia applications. To do this, a catalytic bead sensor, with a range of 0-10%, monitors for potentially explosive levels of ammonia, creating a notification and response prior to achieving the lower explosive limit (LEL) of the target gas. It has all the features you need for emergency response, in any harsh environment. 
One of its main features is noticeable at first glance, with its highly visible digital readout for displaying the ammonia concentration in %NH3. This detector can also seamlessly integrate with your existing PLC or automation control system via its 4-20 mA analog output. Finally, the LBW-420-LEL comes equipped with three output relays that can be used for activating emergency ventilation, de-energizing pumps, compressors, motors and other equipment.
Features
Bright LED display, indicating NH3 concentration in Real Time

Gas sensor mounted externally, ensuring highest probability for immediate detection

Annual calibration requirement, process is simple and quick, reducing maintenance costs

Industry standard 4-20 mA output for connecting to controllers and PLCs

Three relay output contacts for stand-alone operation

Available in 24 VDC input voltage (120 VAC optional)
The LBW-420-LEL detector is manufactured in the USA and comes with our standard three-year limited warranty.