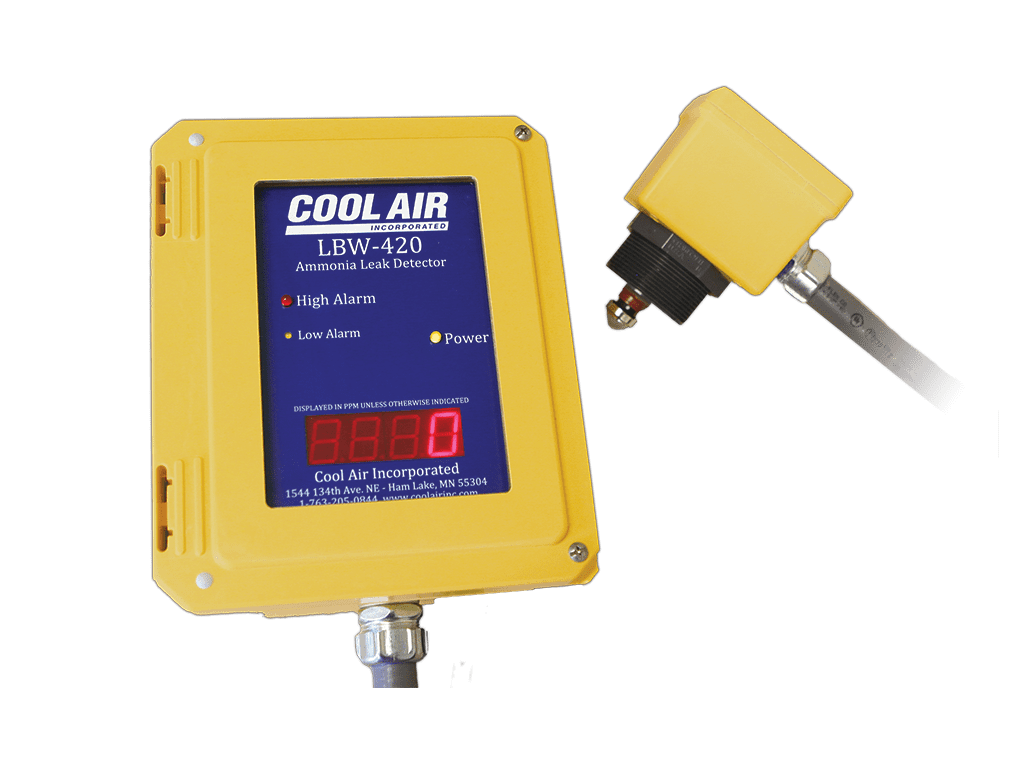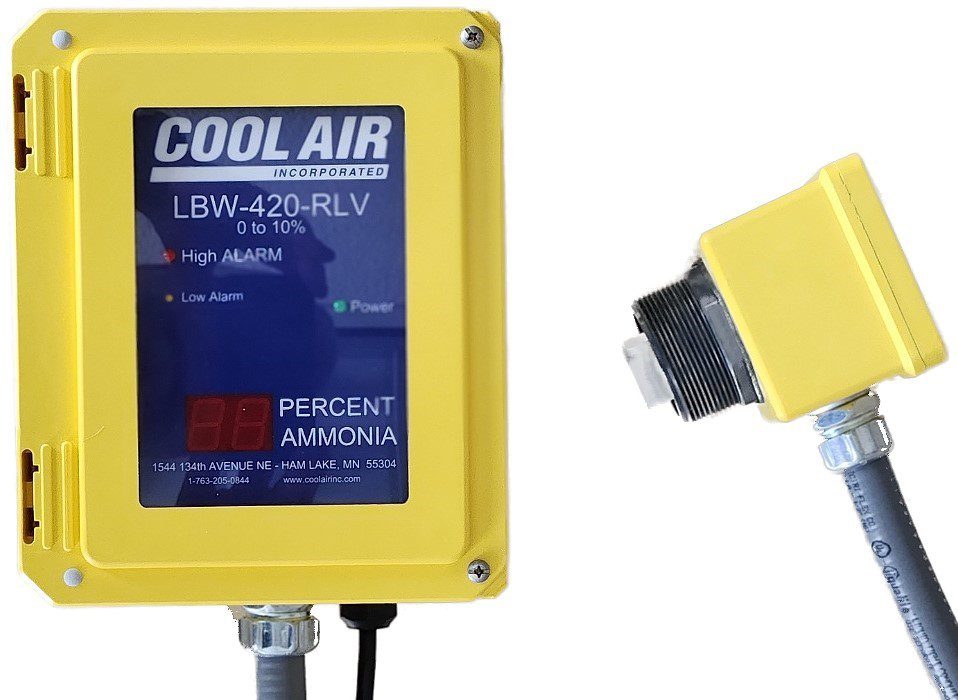 Price: $1,995.00 (0 to 1000PPM)
Price: $2,860.00 (0 to 10%)
SKU's / Part Numbers
LBW-420-RLV (120 VAC detector configured with 0 to 1000PPM solid state sensor, remote sensor with 2" RLV fitting and 5' conduit)
LBW-420-1-RLV (24 VDC detector configured with 0 to 1000PPM solid state sensor, remote sensor with 2" RLV fitting and 5' conduit)
LBW-420-2-RLV (230 VAC detector configured with 0 to 1000PPM solid state sensor, remote sensor with 2" RLV fitting and 5' conduit)
LBW-420-RLV-% (120 VAC detector configured with 0 to 10% catalytic bead sensor, remote sensor with 2" RLV fitting and 5' conduit)
LBW-420-1-RLV-% (24 VDC detector configured with 0 to 10% catalytic bead sensor, remote sensor with 2" RLV fitting and 5' conduit)
LBW-420-2-RLV-% (230 VAC detector configured with 0 to 10% catalytic bead sensor, remote sensor with 2" RLV fitting and 5' conduit)
Ammonia Relief Line Vent Gas Detector LBW-420-RLV
In addition to having ammonia detection in compressor rooms and refrigerated spaces, it is recommended to install ammonia sensors on your vent lines to monitor for releases of ammonia gas into the atmosphere. In the event of a release, the detector can alert safety personnel, so swift action can be taken to reduce the potential exposure to the surrounding community and the onsite workers.  
Cool Air Inc. offers a full line of relief line vent (RLV) detectors to suit the needs of your application and we use our proven standard detector models as the heart of our RLV detectors. Each RLV detector is retrofitted with a 2-inch schedule 80 relief line vent fitting, potted electronics, and robust 0-1000 ppm solid-state sensor or 0 to 10% catalytic bead sensor. The detector is capable of sensing any ammonia in your relief line vent header, regardless if it is coming from a weeping valve or during a release due to system overpressure.
Bright LED display, indicating NH3 concentration in Real Time

Annual calibration requirement, reducing maintenance costs

Capable of sensing ammonia at very low concentrations to catch weeping valves

Must include RLV remote sensor, direct mount fitting on back of detector not available

Same features as standard LBW-420
The LBW-420-RLV detector is manufactured in the USA and comes with our standard three-year limited warranty.